9 Silver Coins with US Presidents: Silver Half Dollars & More
US presidents have graced the obverse side of quite a few coins over the years. However, only a few of them were silver, and even fewer still were silver half dollars.
Suppose you have half dollars, quarters, or dimes that you suspect have significant silver content, how do you know for sure? There are some telltale signs, such as coins issued in 1964 and earlier, but that doesn't always tell the entire story.
In this piece, we're going to highlight nine silver coins (primarily silver half dollars) that feature US presidents and some interesting and historical information on each!
1. 1918 Illinois Centennial Silver Half Dollars – Abraham Lincoln
Your first clue to the 1918 Illinois Centennial Half Dollar will be the inscriptions. They include "Centennial of the State of Illinois" on the obverse and "State Sovereignty National Union" on the reverse. Of course, the date of 1918 helps since that was the only year for these silver half dollars. Add to that the unique low-relief image of President Abraham Lincoln.
This obverse was designed by George T. Morgan based on a statue sculpted by Andrew O'Connor and is composed of 90% silver.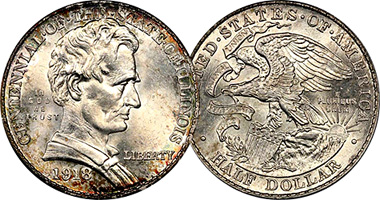 2. 1922 Grant Memorial Half Dollar – Ulysses S. Grant
A distinctive image of President and General Ulysses S. Grant shows on the obverse of the 1922 Grant Memorial Half Dollar. These 90% silver half dollars were designed by Laura Gardin Fraser. They have the name Ulysses S. Grant on the obverse and a depiction of the log cabin where Grant was born on the reverse.
Minted in Philadelphia, these commemorative coins were produced to celebrate the 100-year anniversary of Grant's birth.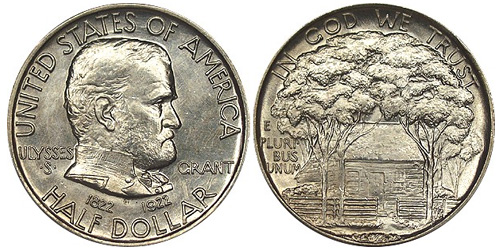 3. 1923 Monroe Doctrine Centennial Half Dollars – James Monroe and Quincy Adams
The film industry moguls were the ones who pushed for the 1923 Monroe Doctrine Centennial Half Dollar coins. This was a roundabout way to salvage Hollywood's reputation. The result was a new commemorative coin that was struck in San Francisco.
These valuable silver half dollars show obverse side-by-side likenesses presidents Quincy Adams and John Monroe. Inscribed on that side are also "Monroe," "Adams," and of course, the date of 1923. On the reverse of this .90 fine silver half dollar is a map of the Western Hemisphere.
You will also see a horn of plenty and a quill to symbolize the treaty.
The reverse's inscriptions read "Monroe Doctrine Centennial," "Los Angeles," and two dates. 1823 refers to the beginning of the Monroe Doctrine and 1923, the centennial.
4. 1926 Sesquicentennial of American Independence Half Dollar – Washington & Coolidge
The year 1926 was the 150th anniversary of the signing of the Declaration of Independence. On the front of the coin, you see two portraits, with that of President George Washington overlapping that of President Calvin Coolidge. Other than that, the obverse is very simple, with inscriptions of "Liberty" and "United States of America." Turn it to the obverse, and you will see a plain Liberty Bell, not unlike the version used on the reverse of Franklin half dollars.
The inscriptions read "Sesquicentennial of American Independence," as well as the two dates 1776 and 1926. These 90% silver half dollars were minted in Philadelphia.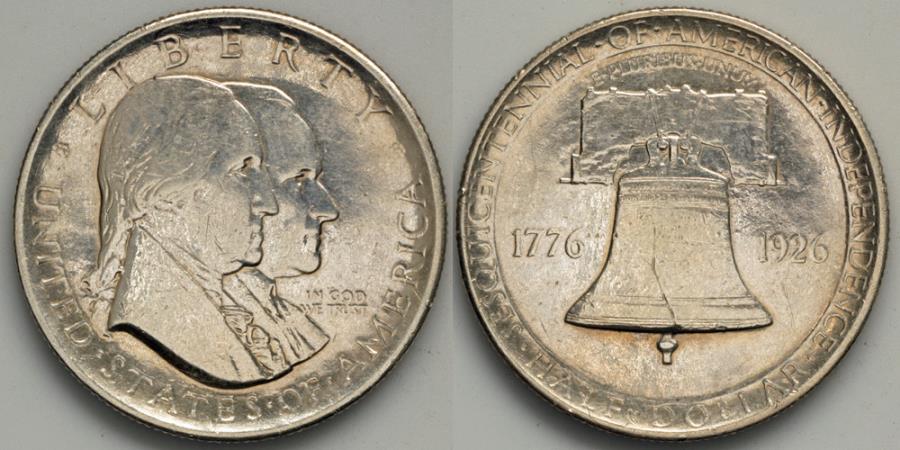 5. 1964 Kennedy Silver Half Dollars – John F. Kennedy
Likely the most well-known silver half dollars these days are the ones honoring President John F. Kennedy. The obverse image of Kennedy, designed by Gilroy Roberts, faces left. On the reverse is the Presidential Coat of Arms. However, some of these coins have a lot less silver than others.
If you have a 1964 Silver Kennedy Half Dollar, you have a .90 fine silver coin with .36169 troy ounces of precious metal.
After that first year, the silver stockpile was rapidly depleting due to high demand. At that point, the silver content of Kennedy Half Dollars was reduced to 40%.
Then, after 1970, Kennedy Half Dollars meant for circulation were copper-nickel clad and contained no silver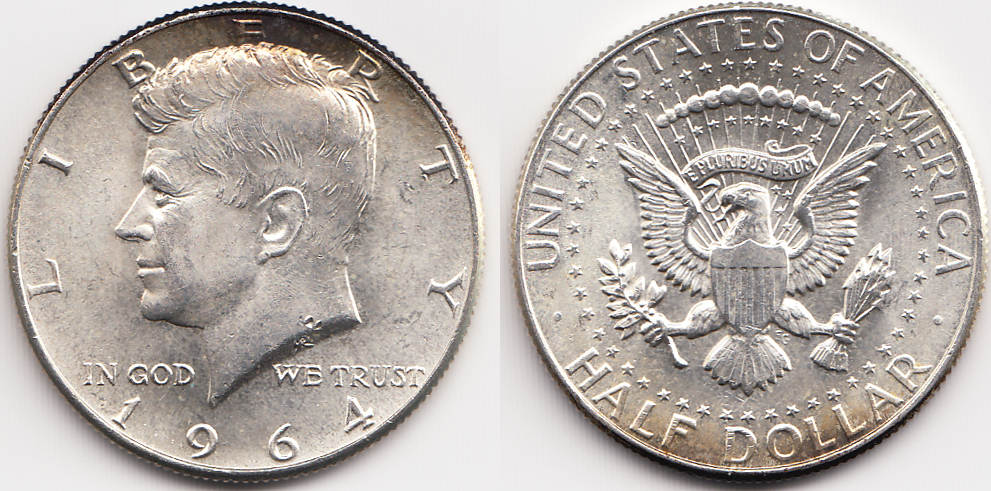 .
6. 1982 90% Commemorative Half Dollar – George Washington
In 1982, the United States Mint produced commemorative silver half dollar coins for the 250th anniversary of George Washington's birth. The obverse of this 90% pure silver coin features Washington mounted on a horse, with the inscriptions "George Washington" and "Liberty."
The reverse shows the first president's home at Mount Vernon, with a heraldic eagle below. Minted in San Francisco and Denver, these silver half dollar coins have a weight of .4019 troy ounces of pure silver.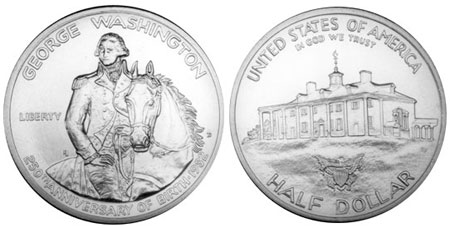 7. 1993 Bill of Rights Half Dollar – James Madison
The 1993 Bill of Rights silver half dollars feature President James Madison. The obverse image is of Madison writing the Bill of Rights has his home, Montpelier, in the background. Also on the front are the president's name and "Father of the Bill of Rights."
On the reverse, you can see a beautiful rendition of the Torch of Liberty. Inscriptions there include "The Bill of Rights" and "Our Basic Freedoms." These 90% silver commemorative coins were struck at the San Francisco Mint to honor Madison and the famous document.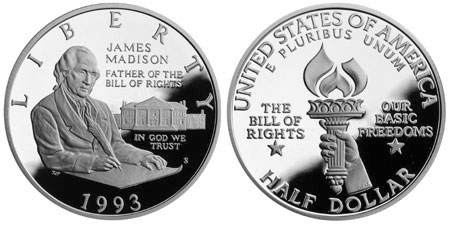 8. 1932-1964 U. S Silver Quarters – Washington
Between 1932 and 1964, Washington Quarters had a composition of 90% pure silver. The silver quarters were also the first commemorative coins minted for circulation. These coins were struck to recognize the 200th anniversary of the first US president's birth.
The obverse of the coin portrays a side profile of Washington. The reverse design is an eagle standing on arrows and an olive branch. They have been minted in Denver, Philadelphia, and San Francisco.
After 1964, Washington quarters were made copper-nickel clad with a copper core.
9. 1946-1964 U.S. Silver Dimes – Franklin Delano Roosevelt
In 1946, the US Mint first produced 90% fine silver dimes with President Franklin Delano Roosevelt on the obverse. Many people collect these dimes, creating their own coin sets by date and mintmark. Others choose complete mint sets.
Although this dime is the current ten-cent piece of the US, the early silver ones are still worth saving. The obverse shows Roosevelt, and the reverse displays a torch with olive and oak branches.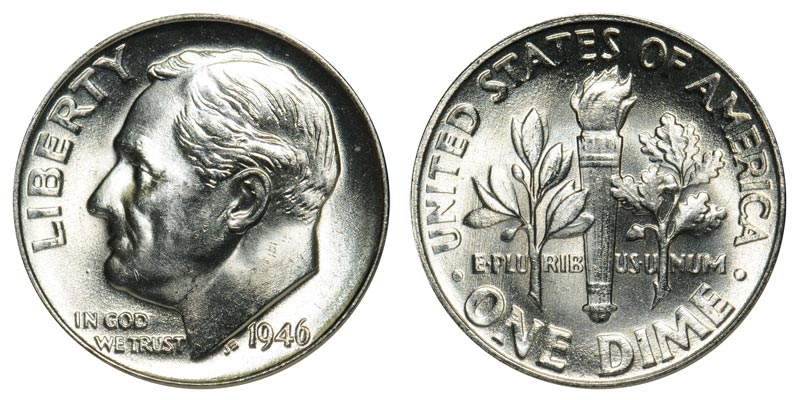 Other Silver Coins
Many other US coins contain 90% silver content. The Franklin Half Dollar may not have a president, but it does have one of the founding fathers: Benjamin Franklin. The Walking Liberty Half Dollars, minted between 1916 and 1947, also had a patriotic theme. With 90% fine silver and their age, these coins are oftentimes sell at a premium, especially in high-quality condition.
One coin that often tricks people is the 40% silver Eisenhower Dollar. Most of these coins are composed of nickel-copper, but that's not always the case.
One last coin that has become one of the most popular US minted coins is the American Silver Eagle. You can check out one of our many articles on these silver coins on our blog, but THIS article on silver eagles is a great place to start!
If you are looking to buy or sell silver half dollar coins, we encourage you to contact us at Atlanta Gold & Coin Buyers. We buy gold and silver coins, including coins and bullion composed of other precious metals, offering transparent and fair pricing. As a leading coin and bullion dealer, we have developed an outstanding reputation over the years.
In addition, we are happy to share our expertise and provide recommendations from our inventory on how to help you create the collection or portfolio that meets your wants and needs. Give us a call today or fill out an appointment form online to purchase or sell some silver coins!