US Gold Coins That Feature US Presidents
Our customers often come to us at Atlanta Gold & Coin Buyers with presidential coins that seem to be gold. Specifically, the $1 Presidential Series Coins.
Unfortunately, many coins with this appearance are not solid gold. Instead, they are made of manganese with a gold plating added. So, how can you know if the coin you hold is truly a gold coin?
It helps if you know which US gold coins feature presidents. Good news for you and other collectors out there because there are only eight of them. Some of the coins are pre-1933 gold coins while others are modern commemoratives.
Since the modern commemorative coin program began in 1982, the United States Mint has raised more than $506,301,189 in surcharges that have gone toward the different coins' intended purpose.  For example, proceeds from the sale of the National Parks Gold Coin go toward our US National Parks funds.
If you are wondering about silver coins featuring US Presidents, check out our article on those coins, HERE, but continue reading to discover the 8 US Minted gold coins that feature previous Presidents.
1. National Parks $5 Gold Coin – 2016-W
In 2016, the United States Mint honored the 100th Anniversary of the National Park Service with a commemorative $5 gold piece. Sculptor Don Everhart's obverse design features former President Theodore Roosevelt along with naturalist John Muir. The reverse shows the National Park Service logo.
Produced at the West Point Mint, these US gold coins are made of solid 90% fine gold. The total mintage for all the gold coins in this limited program was 100,000. However, their final mintage of 5,150 means that they are fairly rare coins.
As with other commemorative coins, anyone who wanted to buy gold coins from the National Parks program paid a surcharge, which was given to support the National Parks Service programs.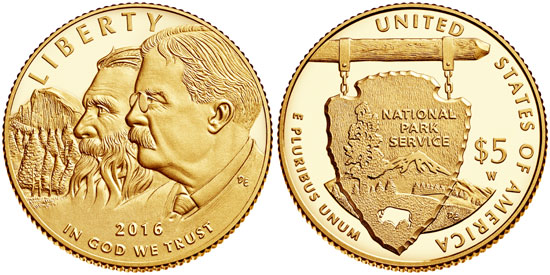 2. Washington $5 Gold Coin – 1999-W
The story of the George Washington $5 Gold Commemorative Coin is a fascinating one. Back in 1932, when the Washington Quarter was being designed, the Treasury Secretary rejected a design by artist Laura Garden Fraser, even though the Commission of Fine Arts preferred it. Recently, researchers found evidence that the Treasury Secretary turned down Fraser's design because he did not want a coin designed by a woman.
Now, what about the coin itself? Produced to honor the 200th Anniversary of the first US president's death, this coin is made of .90 pure gold. It features a right-facing profile of President Washington on the obverse and an eagle with 13 stars on the reverse.
The mint was authorized to produce a maximum of 100,000 coins, but the final mintage was only 22,511 uncirculated and 41,693 proof coins.
At the time, you could purchase these US gold coins individually or as a set with one proof and one uncirculated coin.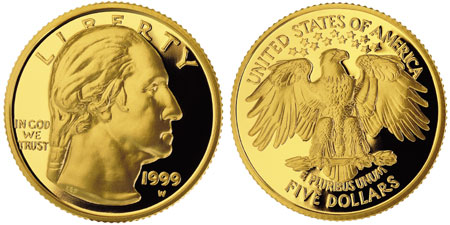 3. FDR $5 Gold Coin – 1997-W
The coin program that produced the 1997 Franklin D. Roosevelt $5 US gold coins was unique in that it only included $5 gold coins and no other denominations, medals, or silver coins. However, the coin does feature a US president and is a solid gold coin of 90% purity. With only a total of 11,894 uncirculated and 29,474 proof coins minted, this coin is a sought-after low-mintage coin.
The coin has an interesting obverse design, created by T. James Ferrell, showing FDR reviewing the Navy fleet at San Francisco Bay. Another designer, James Peed, created the reverse design of the Presidential seal that was displayed at FDR's inauguration.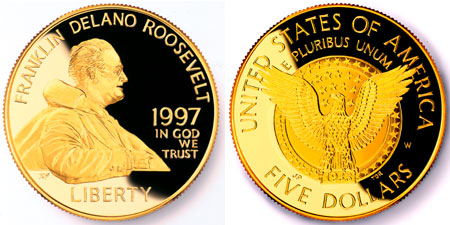 4. Bill of Rights $5 Gold Coin – 1993-W
If you don't recognize the president on the front of the Bill of Rights $5 US gold coins, it is James Madison. This obverse image shows Madison, pictured from about the waist up, reading the Bill of Rights. Scott R Blazek designed the obverse, while Joseph D Pena created the reverse design.
You might also notice two unique inscriptions on the reverse: "Bill of Rights" and "Equal Laws Protecting Equal Rights Are The Best Guarantee of Loyalty and Love of Country." In case you are wondering, this $5 presidential coin is 90% pure gold through and through. These $5 proof US gold coins saw a mintage of 11,523.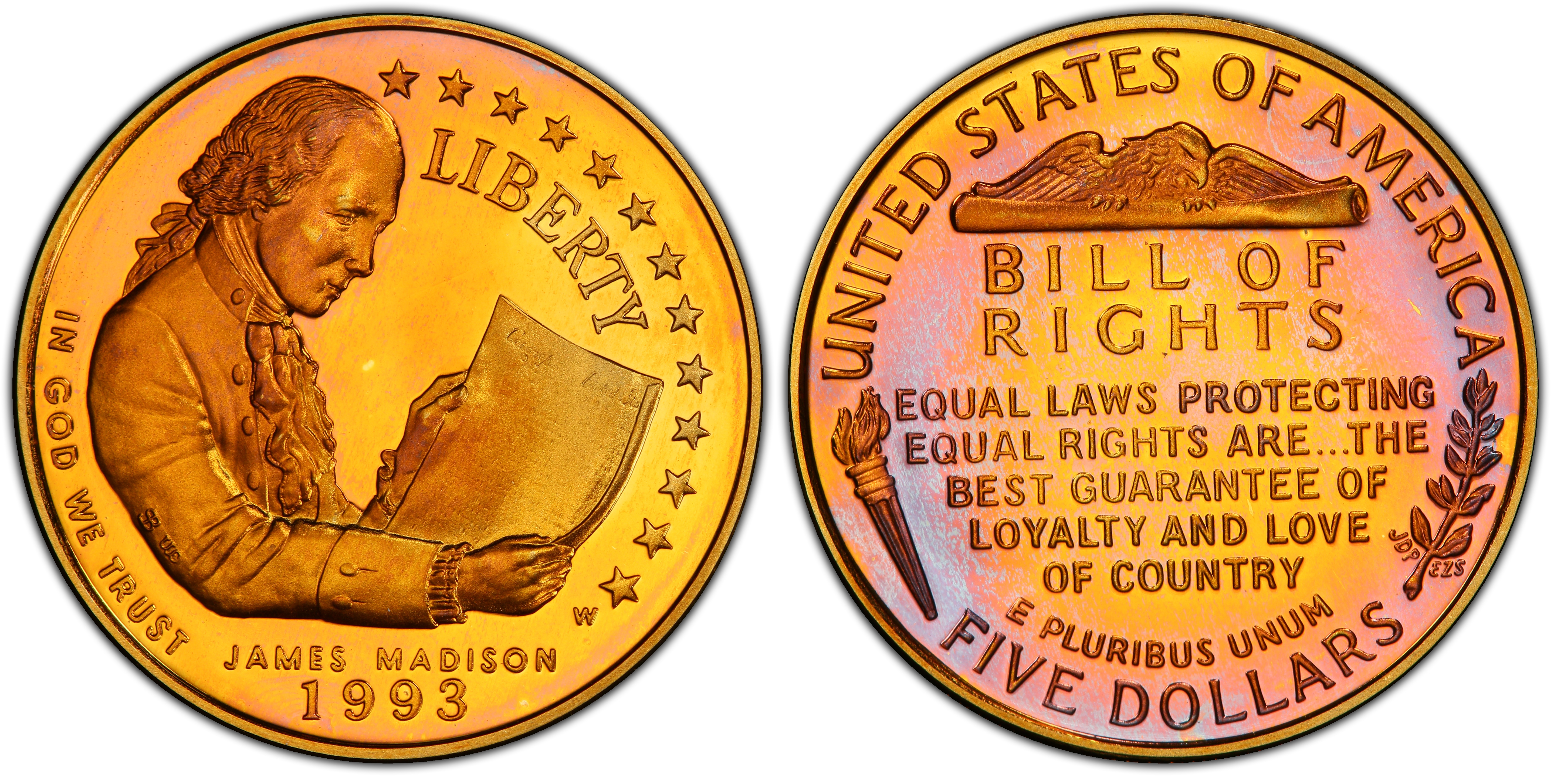 5. Mount Rushmore $5 Gold Coin – 1991-W
Another commemorative with a W mintmark, the Mount Rushmore $5 gold coins, released in 1991, honored the 50th anniversary of Mount Rushmore. Surcharges for this coin were split between the Mount Rushmore National Memorial Society of Black Hills and the Federal Treasury, which would use the funds to reduce the national debt. The coin is made entirely of .90 fine gold.
John Mercanti created the obverse design of Mount Rushmore, which of course includes its four presidents carved into the rock – Washington, Jefferson, Lincoln, and Theodore Roosevelt. More prominent on the obverse is an eagle flying over the monument. The reverse was designed by Robert Lam and features only one main inscription of Mount Rushmore National Memorial, along with four more common inscriptions.
Approximately 22,478 proof and 3,869 uncirculated of these US gold coins were produced. 90% silver dollars and clad half-dollars were also produced as part of the program.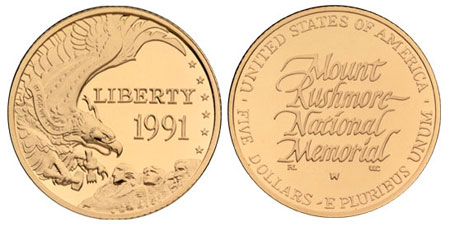 6. $1 Louisiana Purchase – 1903
The $1 Louisiana Purchase US gold coins were struck at the Philadelphia Mint for the 1903 World Fair. The coins commemorated the 100th anniversary of the purchase of the Louisiana territory. The coins are 90% gold and 10% copper throughout. It is one of only three designs of pre-1933 US gold coins to be minted.
Interestingly, when the coins were being designed, Farran Zerbe, a well-known coin dealer at the time, recommended to the Mint that they use two different obverse designs. That is how half the coins came to feature Thomas Jefferson and the other half, William McKinley. McKinley had nothing to do with the Louisiana Purchase, by the way.
He was only chosen because he had been assassinated soon after he signed the bill for the World Fair.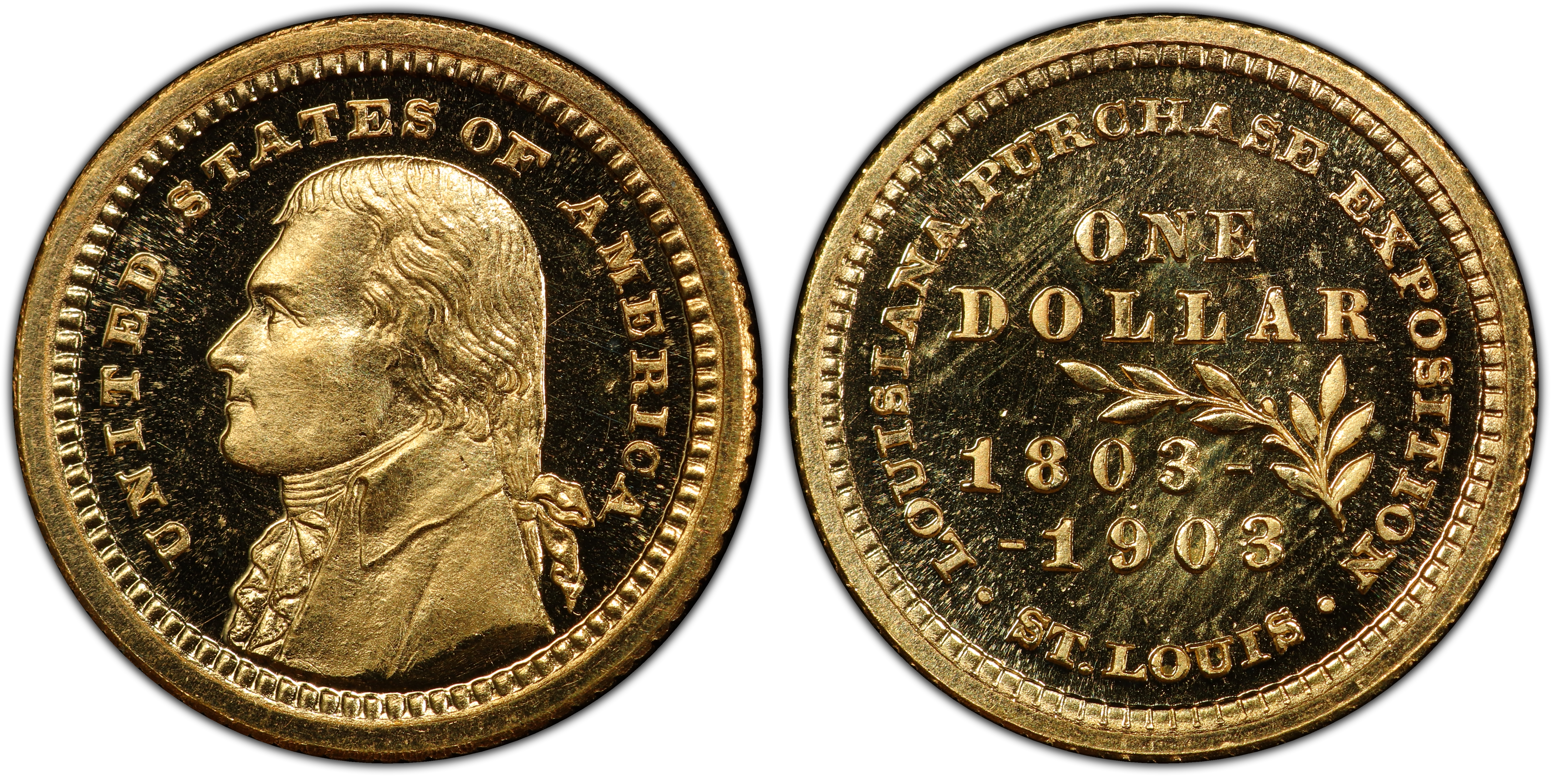 7. $1 McKinley Commemorative Gold Coin – 1916 & 1917
In 1916, fifteen years after former President William McKinley was assassinated, the Philadelphia Mint produced $1 gold coins to honor him. These 90% gold dollars featured a left-facing bust of McKinley on the obverse and an image of the McKinley Memorial building on the reverse. The reverse inscription of "McKinley Birthplace Memorial" and the obverse inscription of "McKinley Dollar" may help you recognize this coin.
Although the coins had a face value of $1, they were made for the purpose of raising money for a memorial to McKinley. The goal was to sell them as souvenirs at a cost of $3 each, and ultimately only 15,000 of these gold coins were ever bought. The rest of the 20,026 that were sold were sent back to the mint to be melted.
The 1916 and 1917 $1 McKinley commemorative gold coins were nearly identical except for the date on the reverse of the coin.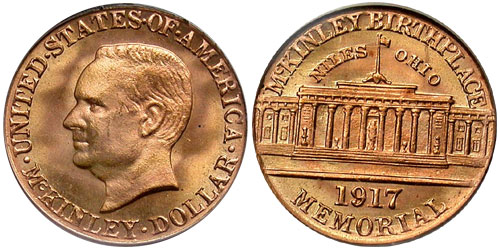 8. $1 Grant Commemorative Gold Coin
The Grant Memorial Gold Dollar came out in 1922 to mark the 100th anniversary of General Ulysses S. Grant's birth. Another .90 fine gold coin, this commemorative showed Grant's profile on the obverse and an image of his birthplace, a log cabin.
Designed by Laura Gardin Fraser, it has a notable inscription of "Ulysses S. Grant" and "1822-1922." The coin was produced at the Philadelphia Mint.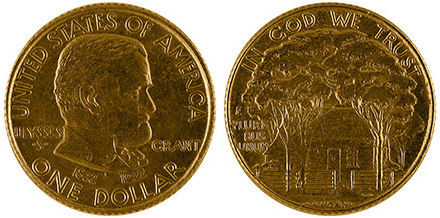 Other American Gold Coins
Although not all gold-colored coins bearing US presidents contain gold content, there are many other gold coins that do. If you want to buy gold coins for your investment portfolio, consider gold bullion coins. American Gold Eagles come in the four weights of one-ounce, one-half ounce, one-quarter ounce, and one-tenth ounce. The US Mint produces plenty of these gold coins to go around.
In addition to a current American Eagle coin, you can buy gold coins from other countries and other times. Some of the most popular gold coins include:
–         U.S. Gold Double Eagle
–         U.S. Gold Quarter Eagle
–         American Gold Buffalos
Buy Real Gold Coins Today
Whether you are looking for a gold coin featuring Lady Liberty or a design by Augustus Saint Gaudens, Atlanta Gold & Coin Buyers can help you in your quest. We buy and sell both collectible and gold bullion coins to our customers in Atlanta and nationwide.
With Atlanta Gold & Coin Buyers, you can always count on a fair appraisal and transparent pricing when you sell us your gold coins. We also offer among the most reasonable prices in the industry. Reach out to us today to learn more about US gold coins, how to recognize them, and how we can help you achieve your buying or selling goals.